Compare Electric Cars vs. Gas Cars Service Costs
Take some time to speak with our Ford EV mechanics and you'll see why Ruxer Ford is considered a leader when it comes to Kentucky EV sales. We'll help you understand how Mustang Mach-E repairs and F-150 Lightning service differs from comparable gas-powered models, as we believe that opting to buy an electric Ford truck or SUV should be done while knowing the typical EV cost of ownership. We're happy to say that electric cars are often cheaper to drive on a per-mile basis than the average gas-engine vehicle, as you can see when you compare EV maintenance costs vs. gas service costs. If you're ready to start thinking about going electric or just need to schedule EV service, give our Ford dealer near Louisville a call today.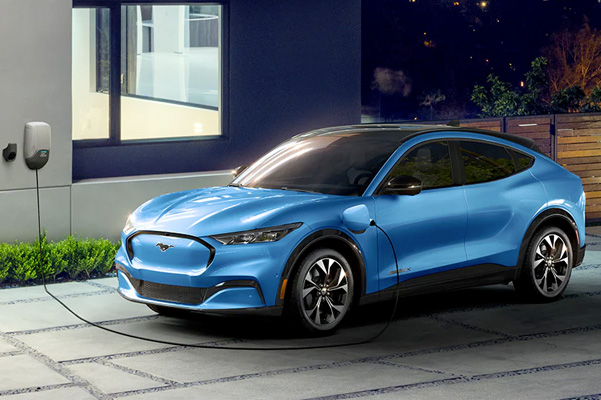 Electric Vehicle Service FAQs
Do electric cars need oil changes?
No. You won't have to schedule an oil change for your new Ford EV because these models are powered by electric motors rather than gasoline engines.
Does an EV cost more to service?
Electric vehicles typically cost less to service compared to gas-powered cars because there are fewer moving parts and fluids to maintain. According to a U.S. Department of Energy report from June 2021, the estimated scheduled maintenance cost of a light-duty battery-electric vehicle is less than $.07 per mile, while a conventional internal combustion engine costs about $.10 per mile to service.
Are electric cars cheaper to maintain?
More often than not the answer is yes. The secret to the cheaper maintenance lies with the design of the electric powertrain, which uses far fewer parts than the average internal combustion engine. Fewer parts mean less upkeep, which translates to a more simplified, affordable maintenance routine.
Are electric car service intervals the same as gas vehicles?
Not usually. In fact, you can typically go longer between service visits with an EV when compared to a gas-powered car thanks to the need for less regular maintenance. You'll still need to visit us if you want to schedule a tire rotation nearby or need Ford brake service, but we can discuss how often this might be required when you visit our Ford service center near Louisville.