Ford Maverick Jasper IN

Meet the 2022 Ford Maverick
The all-new 2022 Ford Maverick is a sight to behold in Jasper, IN. Purpose-built to set new trends, the Maverick is ready to support you in the country and the city. Whether you need to haul your band equipment to your next gig or bring home tools to work on your house, the Maverick is there for you.
What to Expect in 2022?
As the Ford Maverick is an all-new vehicle near Washington, IN, you can expect to explore the Maverick in its entirety when it is officially released into the market. However, a highlight of the 2022 Maverick is its standard hybrid powertrain. Drivers can look forward to making the most of both a gas engine and electric motor. There is also an available full gas engine.
Performance Features
When it comes to performance, the Maverick does an all-around great job near French Lick, IN. As mentioned, the standard engine is the 191-horsepower hybrid system. It includes a front-wheel drive, a 2.5-liter four-cylinder engine, an electric motor, and a continuously variable transmission. It offers good power to traverse both country roads and tight city streets. There is an optional engine as well, such as the EcoBoost. It is easy to park and steer and is very stable around turns. For towing, the Maverick can carry a payload of 1,500 pounds.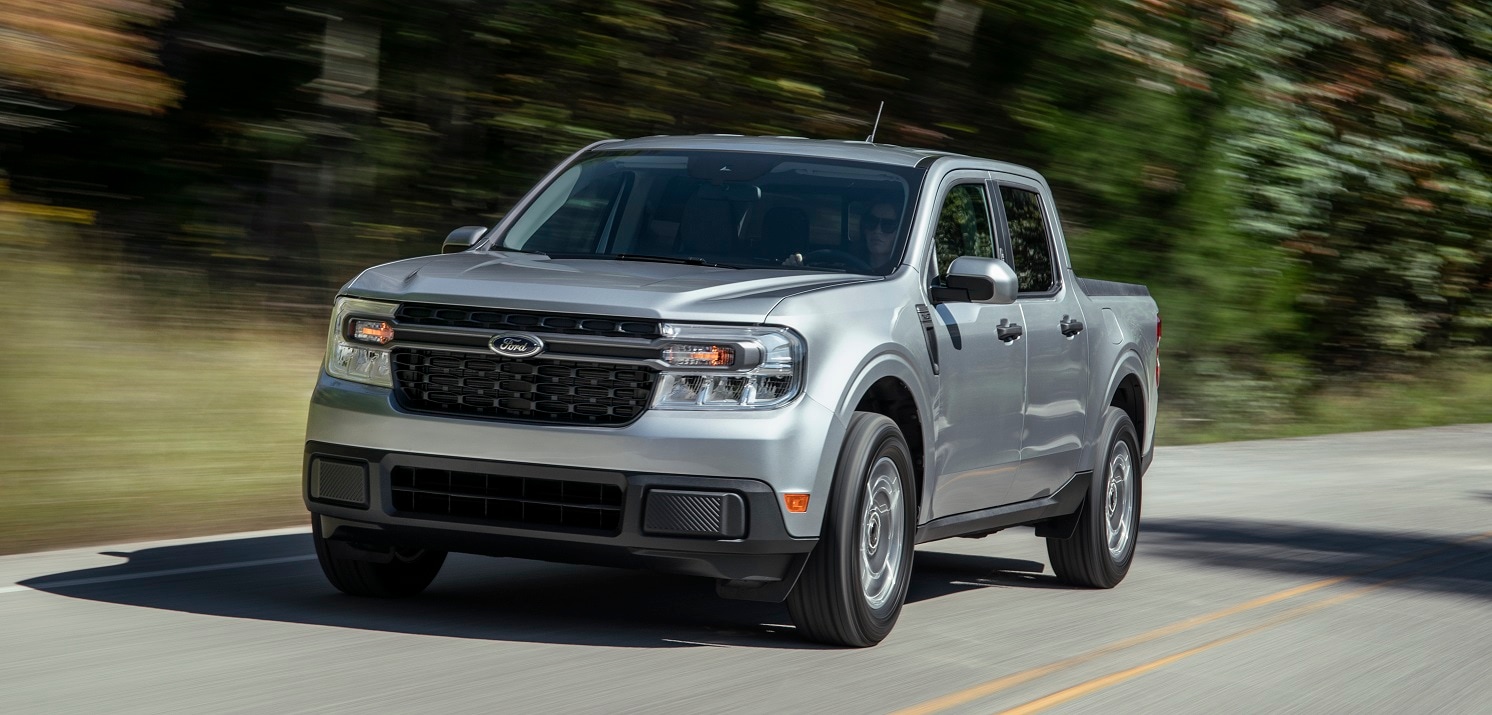 Interior Features
Another highlight is the Maverick's stylish interior cabin near Huntingburg. Overall, drivers will love the bold and attractive styling. There are plenty of storage bins around the cabin to store smaller items. Occupants can easily stretch with generous passenger space. The seats are also comfortable and supportive. The Maverick comes with a 4-foot-6-inch bed to carry items.
Technology & Safety
For technology, the Maverick has a lot to offer near Petersburg, IN. The base infotainment system is straightforward to use. The menus have crisp graphics quick responses to inputs. Standard infotainment features include the 8-inch touch screen, a six-speaker stereo, Apple CarPlay, Android Auto, a Wi-Fi hotspot, Bluetooth, and two USB ports. Plus, there are many more technologies.
When it comes to safety technology, there are five standard safety technologies. Five more advanced driver assistance technologies are available as well.
Exterior & Color Options
For the outside, owners can find an attractive and iconic look. Smooth lines draw the eye across the body, making it nice to look at. Plus, there are ten color options to choose from. They are the following:
Area 51
Cyber Orange
Alto Blue
Shadow Black
Iconic Silver
Carbonized Gray
Cactus Gray
Oxford White
Hot Pepper Red
Velocity Blue
Trim Options
The 2022 Ford Maverick comes with three trim levels. They are the following:
Maverick XL
Maverick XLT
Maverick Lariat
Reserve a 2022 Ford Maverick
Do you want to reserve a 2022 Maverick? If that is the case, please get in touch with us. We can help you set up and confirm your order.
Visit Our Dealership
To see the 2022 Ford Maverick in person, we suggest visiting our dealership when it becomes available. You will be able to set up a test drive and climb in behind the wheel. See it for yourself, and determine whether it is right for you.
Do you have questions that you need to be answered near Ferdinand? Now is a great time to reach out. We pride ourselves on our customer service. You can expect to find a friendly, knowledgeable staff member ready to take your call. If you would rather meet in person, schedule a time to visit that works with your busy schedule. Rely on us to support you while you research and determine whether you want to bring home the 2022 Ford Maverick. Take your time.